Contact Details:
Telephone:
01246 269723

Email:
info@am-international-agencies.com

Fax:
01246 269724

Address:
A M International Agencies Ltd
Digital House
Peak Business Park
Foxwood Road
Chesterfield
Derbyshire
S41 9RF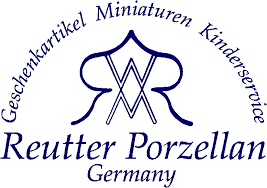 Reutter Porzellan Home
For more than 60 years Reutter have been manufacturing their porcelain collections in their own production facility in Germany.
The porcelain miniatures are the only ones of their kind to be manufactured in Germany. And they are famous for our attention to detail. During their manufacture the porcelain articles pass through the hands of as many as 17 skilled craftsmen: after casting, they are glazed, painted and then fired as many as three times to give them their characteristic Reutter look. It is this tradition of craftsmanship which won them friends all over the world.
Authorised Stockists: